Burlesque Booty!
About This Class • About the Teachers • Dress Code
Every Monday
BROOKLYN LOCATION BEGINNING APRIL 4th:
7–8pm
Central Arts and Recording
http://centralarts.org/programs-classes/
1239 Dekalb Ave, at the corner of Evergreen.
M train to Central
J train to Kosciusko
L train to Dekalb


$15
Register Now! Space is limited.
Select your date and click below to register for April 2016 dates! Please note that the class moves to the Brooklyn location beginning April 4th.

Preregistration is required for all NYSB classes. By paying to register you agree to comply with our payment, refund, and class transfer policies.
By registering you affirm that you understand that you should consult a doctor before beginning any movement or exercise program, and that you will not hold the teachers, institution, or venue responsible for any injuries that may result.
About Burlesque Booty
Join Peekaboo Pointe for this super fun weekly booty­centric workout class! You'll start the class with a complete workout focusing on abs, legs, arms and of course butt! Then you'll get your heart rate up with some high energy booty twerking choreography (perfect for any level of dancer from beginner to professional) practicing a number of ass­centric movements...popping, twerking, bouncing, and of course clapping! Come ready to move...your booty!
Substitute teachers include:
Nina La Voix
Gal Friday
The Maine Attraction
Essence Revealed
Please note that
this class is not for the shy or delicate
! You will be moving hard and getting on your hands and knees.
Students of the NYSB booty bouncing and assel-tasseling at a student showcase
Dress Code and Class Notes
You can take the class perfectly well in leggings or shorts and a tank top. Or, you can go all out and bring a hoodie, wrist supports, knee pads, booty shorts, bare feet, and a yoga mat or towel. You will be on your knees on a hard floor so take that into consideration. You won't be able to take this class in restrictive or limiting clothing.
If we are doing assels in class we provide tasseled pasties for use during class, but feel free to bring your own. If you want to learn to make pasties please purchase Jo Weldon's book,
The Burlesque Handbook
.
Check out the Guiness World Record of Twerk!
About Our Instructors
Peekaboo Pointe
Peekaboo Pointe performs her Lazy Stripper act at Red Palace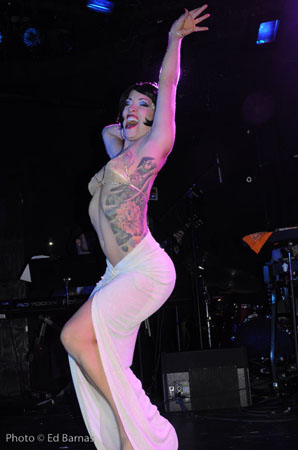 Peekaboo Pointe by Ed Barnas
Peekaboo Pointe puts the ass in classic!
Peekaboo is the primary instructor and choreographer of the class.
If you've taken her lap dance class, you know she's got the shimmy going on! She is certified to teach Pilates, has a degree in choreography, and has mad pole dance skills, but burlesque is her first love. Her performances are characterized by high femininity, high humor, and high kicks!
Gal Friday
Instructor Gal Friday, winner of the "Most Perfect Posterior" award at the 2011 New York Burlesque Festival
photograph by Luke Ratray
Watch Burlesqu'N'Roll starring Gal Friday! from Jonathan Kugel on Vimeo.
Always ready to shake and quake, Gal will step in to teach when Peekaboo is shimmying elsewhere. She has learned burlesque movement, tassel-twirling, and shimmy movement from some of the best-known instructors in the world, and has been teaching her own brand of butt-busting moves at NYSB for four years. One of New York's most popular art models and a former Miss Coney Island, Gal can be found performing her mischeivous and glamourous numbers throughout the city, and beyond.
Jo Weldon
Honey & Spice: Sensual & Fierce Burlesque with Jo Weldon
Jo has been the headmistress and founder of the New York School of Burlesque since 2003, and has taught classes on burlesque movement in the US, Canada, Europe, Australia, and New Zealand. She has been ass-tasseling around the world and shaking her tush in strip joints since the 80s. You can see Jo bouncing and asseling on page 81 of The Burlesque Handbook!
The calendar below is constantly being updated.