Burlesque 101: The Essential Burlesque Dance Series
with Headmistress Jo Weldon and Superstar Guest Instructors!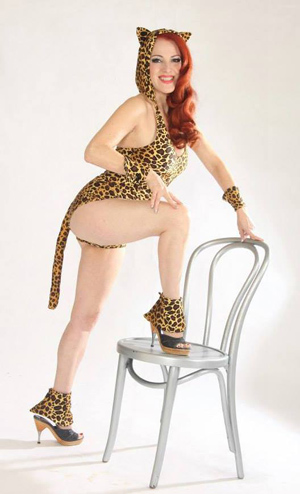 About This Class • Details • Dress Code
Register Now • Students on Stage!


Classes take place Sundays from 130-330
Includes Glove Peeling, Tassel Twirling, Chair Dance, Fan Dance, and Striptease Technique!
This class is a perfect complement to our Act Development Series, where you can develop a solo routine to perform in a student showcase!
Preregistration required; do not drop in.
Price: One payment of $115.00 for the series of 4 two-hour classes.
440 Lafayette Street NYC 10003
Studio 4C, Fourth Floor *Please come directly to the studio; there is no receptionist.
This class is designed for women and nonbinary persons.

Preregistration is required for all NYSB classes. By paying to register you agree to comply with our payment, refund, and class transfer policies.
Don't miss our student showcase February 9!
Information and Tickets
January 2020 series is SOLD OUT.
February 2020 series is SOLD OUT.
Email to be put on the waitlist in the event of a cancellation or register now for March 2020.
If you received a gift certificate for Essential Burlesque, that means you have already been registered, but you must email us to confirm your registration. The email address by which to confirm is on your gift certificate.
As of February 2020, Essential Burlesque will be required before taking Act Development. We also recommend taking Performance Fundamentals before taking Act Development.
Register below for the Essential Burlesque series in January 2020, Sundays at 130-330.
SOLD OUT
Register below for the Essential Burlesque series, four Sundays March 1, 8, 15, 22 2020, at 130-330.
In this series you'll learn several group routines that show you how classic burlesque works, while learning to handle unqiue burlesque props such as chairs, boas, gloves, tassels, and feather fans! No matter what your level, this is the only series that will teach you the fundamentals of burlesque movement.
If you know the moves in this series and you want to create a solo routine to perform, sign up for the Get Your Act Together Series. In that series, you can create any kind of routine, from the most outrageous neo to the most seductive classic routine. The Essential Burlesque Series and the Get Your Act Together Series are a great combination if you want to immerse yourself in burlesque for five weeks. If you want to learn a group routine to perform in the students showcase, take Flirting With Burlesque.
Classes include:
Striptease Expertise: Go deep into the powerful mysteries of striptease psychology and logistics. Learn a showgirl strut. After this class you'll be able to take off anything, even a hoodie, with mesmerizing style! Bring a button down shirt or hoodie that unzips all the way down the front.
Stocking and Chair: Learn to peel stockings and do basic sexy chair dance moves! Bring a pair of stockings with you, and wear shorts or a leotard.
Fan Dance: You'll play with glorious feather fans! Bring your cameras for this one so you can get a selfie with the fans!
Classic Moves: Get ready to do an entire burlesque routine! Secrets of showgirl posing and attitude, plus boa play, glove peels, bump n grind, and the glorious, outrageous tassel twirl! Bring a back-hooking bra with you.
Note: Class order may vary, so please consult with your instructor about which one is upcoming
Suited for women and femme only. We honor your identity and pronouns.
If you have any questions, please email glitter@schoolofburlesque.com.
Please let us know if you have a gift certificate and we can help you apply it to any class including this one!
You'll learn the authentic burlesque moves that make burlesque so much fun: the tantalizing glove peel, the sexy shimmy, the devastating bump n grind, the dazzling tassel-twirl and more! You'll be shimmying, peeling, and rocking it, performing an entire burlesque routine in the very first class. You'll get the basics of the history of burlesque and striptease as an artform. There will be tips on costuming, getting gigs, the history of the Burlesque Hall of Fame and burlesque in Coney Island, where to see burlesque shows in NYC, and more!
You do not need to be a performer or planning to perform to take these classes, though performance theory will be discussed in class. This series is suitable for beginners, as well as for dancers or other types of performers curious about the language of burlesque.


Created by the author of The Burlesque Handbook!

Check us out on the Headmistress's Instagram!
Preregistration required for all NYSB classes. By paying to register you agree to comply with our payment, refund, and class transfer policies.
Registration is strictly limited to ensure the quality of the class. If you are registering with a friend, please register together to ensure that you both get in. Email us at schoolofburlesque at gmail dot com if you receive a notice that the class is sold out; we may be able to fit you in if there is a cancellation.
We recommend registering immediately if you are interested. Once you sign up for the class, please bookmark this page for reference.
There is a certificate of completion issued for taking all four classes in this series. However, it cannot be mailed or picked up--in order to receive it you must be in the final date of the four classes of your series, as this is the only time the certificates are issued. There are no certificates for partial completion of the series.
About This Class
Get in touch with the history of sensual, magnetic, powerful women, and become part of that history yourself in the the series that started the the NYSB! Enjoy the sparkle of rhinestones, the flash of fringe, the feathery dreamy drop of a boa...
New York School of Burlesque Headmistress Jo Weldon has learned directly from the fierce and fabulous ladies who performed during the magical golden age of twentieth century striptease, and has taught these movements, principles and styles to NYSB instructors. Although it has been honed over time, this is the same series that has helped produce some of burlesque's most popular new performers over the past five years!
This class series is for women and trans/binary only.
Register Now!
Dress Code
Wear clothes you would work out in or take dance class in. Skirts are not recommended, nor are flowy sleeves or pantlegs. Yoga or dance class clothes are great. Bring two pairs of shoes if you like, one with high heels and one without.
See class schedule below for specific classwear requirements.
We also recommend you wear layers as the venue temperature fluctuates—bars and dance studios are notorious for this. Boas, gloves, and pasties will be provided for use during class.
We recommend you purchase The Burlesque Handbook to accompany this class. This is the first-ever book on how to create a burlesque routine written by NYSB Headmistress and Founder Jo Weldon. Includes pastie-making instructions, information about how to choose music, how to put together a costume, and more! Purchase now on Amazon.com!

Sign up for our email list through the sidebar on the left to be notified of emergencies such as cancellations, etc.


See us in action on CBS Sunday Morning:


The calendar below is constantly being updated.