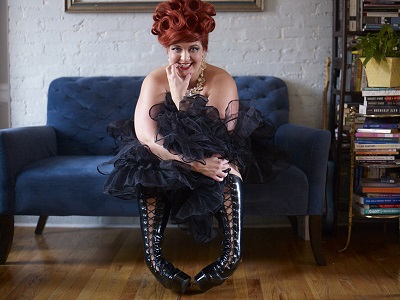 Get Your Act Together!
Act Development
with Jezebel Express
Create Your Own Burlesque Routine!
The March series repeats in April with classes meeting April 28, May 5, 12, 19 (no meeting May 26) and June 2, Showcase date June 23:
Jezebel's March five-week Act Development Series at NYSB is in Spring 2019: March 3 , 10, 17, 24, No meeting on March 31, final class on April 7. Student showcase date April 28.
About The Get Your Act Together Series
Go through all the steps of creating a burlesque routine with Jezebel Express!
You've got the moves, you've got the attitude... but do you have the skills it takes to create a truly spectacular act? This five-week intensive workshop will help you learn how you create while you're creating, and give you the tools and support you need to create a standout burlesque number. This class guides students through the process of developing an act from the first twinkle of an idea to a fully-staged showpiece in a supportive, constructive environment. This class culminates in a Student Showcase performance, so you'll have a chance to show off your hard work onstage!
Students will learn practical skills and invaluable lessons, including:
• how to select the best music to frame and enhance your act
• how to pace movement using choreographic principles for maximum excitement and tease
• how to make creative costuming decisions that don't break the bank
• how to build and maintain a strong character and tell a clear story
• how to perform with grace and poise, even if you're not a trained dancer
• how to anticipate performance disasters (and use them to win your audience over!)
• how to create a striking beginning and an ending with pow!
This class will involve "homework", so students should be prepared to apply each week's lessons at home and return to the following week's workshop with new material.
This class is suitable for both burlesque performers creating their first acts and those with more experience seeking continued growth and improvement.
Class Structure:
subject to necessary changes
• Week One - Act Concept & Music Choice
• Week Two - Act Structure & Costuming
• Week Three - Musicality & Choreography
• Week Four - Character Development
• Week Five - Polishing For Performance Plus • Detailing and Rehearsal
• Performance Showcase
About Jezebel Express
Miss Jezebel Express holds a BA in Dance Choreography, and has been performing and teaching burlesque for the better part of a decade. In addition to having competed for the title of Miss Exotic World, she has performed at festivals all over North America, including Tease-O-Rama, The New York Burlesque Festival, and The Toronto Burlesque Festival. She has been awarded grants for her artistic work by the US Fulbright Association, The State of Iowa and The Newfoundland Arts Council, but she thinks her best work is evident in the smiles and shimmies of the genius students at the New York School of Burlesque.
Jezebel Express performs a fan dance
We recommend you purchase The Burlesque Handbook to accompany this class. The book includes information about burlesque dance, history, costuming, and makeup, illustrated step by step pastie-making instructions, and more. It is the first and only book on how to create burlesque routines.
Click here to purchase or download from Amazon.com!

You may also purchase a copy from our stockists at the amazing Bluestockings Radical Bookstore, (212) 777-6028, located at 172 Allen Street 10002,
or Call your favorite bookstore in advance to make sure it's in stock.


PAST CLASS: Let us know if you want this class to be offered again!
CONFIDENCE FOR SHOWGIRLS: HOW TO FEEL AS GOOD AS YOU LOOK
July 14, 4-6 pm, $35
440 Lafayette, Studio 4E, 4th Floor.
Everyone covets a burlesque star's life: glittering costumes, bubbling champagne, devastating self-doubt. (Wait, what?)
Let's be real: many confident, talented performers have moments where they lack confidence in their bodies, their skills, or their creativity. It's hard to feel worthy in the age of Instagram, and if you lack confidence, it's not your fault. But confidence is a daily practice, and you have the power to build yours up.
In this class, we'll focus on confidence specifically as it relates to a performer's life and lifestyle: what it means to ask to be seen, where we can find strength in our art, and some of the special challenges we face (do you have backstage body insecurity? do you secretly think that while people like your party persona, they wouldn't accept "the real you"? You're not alone.)
We'll discover some of the 'false stories' we tell ourselves that can diminish our confidence, learn a few daily and lifestyle practices that can help us build our confidence over time, and review a few crisis management tools for handling a major confidence crisis, onstage or off. We'll also probably take a break in the middle there to dance it out!
Wear comfortable clothes - this class is mostly discussion but there are a few movement components. Showgirls, showboys, and showponies of all genders and orientations are welcome.
Come prepared to think and laugh and get excited about feeling good about yourself.
The calendar below is in the process of being updated.