Get Up, Get Down: Floorwork Essentials
Instructor: Sweetpea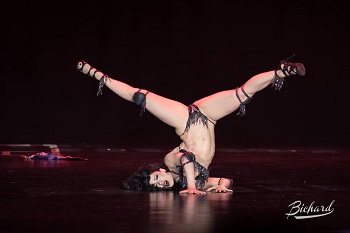 Sunday, July 23 2017, 330-5 pm $25
440 Lafayette Street, NYC Studio 4C (Fourth Floor) *Please come directly to the studio; there is no receptionist.*
Directions
Preregistration required for all NYSB classes. By paying to register you agree to comply with our payment, refund, and class transfer policies. Click "Add to Cart" to register for class:
Fresh off her devastating performance at the Burlesque Hall of Fame in June, where Sweetpea brought the house down with a combination of perfectly executed high-energy moves and luscious slow burn, she is bringing a rockin' workshop to NYC! First time ever, so don't miss out!
Students will do a warmup to loosen and free their limbs, then learn how to move smoothly to the floor, make graceful transitions, do impressive tricks, and return to standing with apparent ease. ​Though beginners will benefit greatly from this workshop, this class is highly suited for intermediate students. Some of the more challenging moves will be deconstructed in order to teach mechanics and build strength (and to workshop on your own time). Wear clothing in which you can move, bring a pair of shoes in which you perform, and keep a bottle of water handy, because you're going to work!
About Sweetpea:
Sweetpea has been teasing her way into the hearts of audiences for over 12 years.  She's been called a conductor of electricity, known for her fierce looks, high-powered choreography, stunning musicality, with the ability of her energy to charm any room and fill any stage.  The dancing powerhouse has been given such taglines as, "The Energizer Honey", "The Seismic Shake from the Land of 10,000 Lakes", "The Equal Opportunity Teaser," and, "The First Lady of Sweet."   A seven-time competitor at The Burlesque Hall of Fame (BHoF), she holds the titles of Most Dazzling Dancer (2013), Duchess of Burlesque (2016), and Princess of Burlesque (2017).
The calendar below is constantly being updated.