Spellbinding Burlesque
with Veronica Varlow
Saturday, April 7, 2018 12:00 - 4:00 pm

440 Lafayette Studios, Studio 3D, 3rd Floor. Greenwich Village, 10003
By purchasing below, you understand and agree to comply with our
payment policies.
$75
PRE-REGISTRATION IS REQUIRED. We do not accept dropins.
For those of you who would like to perfect the craft of va-va-VOOM! Learn how to prepare to entrance and hypnotize your audience, whether for a private seduction or a stage presentation. Veronica teaches secret techniques for finding inspiration, for feeling you are at your peak to perform, and for letting your audience share your passion. Charm is the word!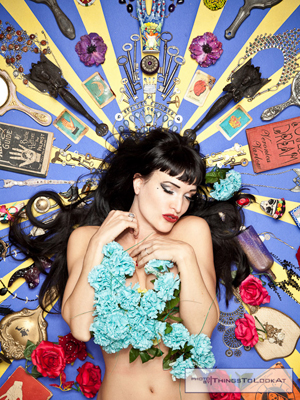 Veronica's Great-Grandmother grew up in a family of travelers in Czechoslovakia - and many family secrets were passed down to her. Some of these include "glamouring" mysteries - ways to magnetize yourself and project your inner beauty. These secrets will help you become radiant and learn how to light up a room. Veronica will also show you secret meanings behind classic movements to use in a burlesque routine to make you feel like the sultry seductress you are! Empowering and Enchanting.....this class will show you all the ropes of spellbinding seduction!
Dress for your comfort as you will be there for hour hours, whether that means yoga pants or a corseted gown. Bring heels, a notebook or journal, a pen,and a bottle of water. Meals are not permitted in the space, though small snacks are fine; just be sure you take everything with you that you brought. The space must be left clean and ready for the next artists to enter for their class that begins at 4 pm.
Please review our full Payment Policies before registering. There will be no refunds or class credit transfers after April 4.

If this class sells out, email us at headmistress@schoolofburlesque.com to be put on the waiting list.
Here's your chance to work with Veronica Varlow, coach on MTV's Emmy-Award Winning show Made, in an intimate class offered for New York School of Burlesque Students only! Sign up quickly - this class has been sold out every time it's been offered!
This class is for female-identified people only.
There is not a showcase or performance as part of this class, but you can perform in NYSB student showcases. Email schoolofburlesque@gmail.com to be notified when there are openings in showcases.
Veronica's class is highly interactive, starting in a circle discussion to get everyone confident and comfortable. There is absolutely NO dance experience required - Veronica's burlesque acts are known for their slow, defined sensuality. Students will learn simple seductive moves that they can take home to create their own routines and unique burlesque persona.
As Veronica displayed as a coach and teacher on MTV - what she is best at is helping to discover and bring out what is best about YOU! You will leave this course with a new understanding of seduction and tools you can use immediately. Veronica will focus on many different ways to bring out your inner beauty and how to create a "signature" look to make you absolutely unforgettable!
Learn what your burlesque archetype is, learn what styles and era works best for you, and learn how to keep all eyes on YOU.
The class will also include a dance segment to pepper your burlesque moves with magic and allure! Learn the techniques of the tease and implements of seduction.
The class is part-mental, part-physical; the goal is to learn how to weave magic into your performance. There will be handout questions to go deeper into bringing out your femme fatale. It's part movement, part workbook, lecture, qna, and circle talking.
Please review our full Payment Policies before registering. There will be no refunds or class credit transfers after October 31.

If this class sells out, email us at nysbinstructors@gmail.com to be put on the waiting list.
Email us at schoolofburlesque@gmail.com if you receive a notice that the class is sold out; we may be able to fit you in if there is a cancellation.
Also, email us if you would like to order this class as a gift.
"Veronica Varlow sees the beauty in You, and in falling under Her spell, you fall under YOUR spell. "Spellbinding Burlesque" is all about charm, sisterhood, and secrets!" - Coco La Pearl
"I loved the class! I wished it lasted FOREVER!" - Dame Beso
"Veronica - you gave us such great advice, opportunities, tricks, etc! Thank you!" - Miss Amanda Jones
"Your class is like a super-stylish, slumber party!" - Tallulah Luv
We are the original School of Burlesque, operating since 2003! We have produced The Burlesque Handbook and Burlesque DVDs. We are not jumping on the burlesque bandwagon--we built it! The New York School of Burlesque gives you access to amazing teachers with a real commitment to joyous, dazzling burlesque, and a love of performance that goes beyond the simple need for attention. These teachers will fully engage and inspire you! Award-winning actress and burlesque star Veronica Varlow has dazzled audiences at exclusive events held by clients such as Heidi Klum and Diane Von Furstenberg. She is the star of the award-winning film Revolver, and is a regular on the TV show Fashionably Late with Stacy London. She has appeared in the Independent Film Channel show "Indie Sex;" and at the Sundance, Gen Art, and Los Angeles Film Festivals. Her nostalgic pin-up photos and story have been showcased in Filmmaker Magazine, The Los Angeles Times, Paper Magazine, The Gothamist, and the Associated Press.