Intro to Improv
Instructor: Violet Deville

Monday July 24 2017, 7-8 pm $20
440 Lafayette Street, NYC Studio 3F (Fourth Floor) *Please come directly to the studio; there is no receptionist.*
Directions
Preregistration required for all NYSB classes. By paying to register you agree to comply with our payment, refund, and class transfer policies. Click "Add to Cart" to register for class:
Don't Think Twice, an Intro to Improv
Improvisation isn't just making stuff up as we go along, there are a number of frameworks that can help you in your plan with opportunities and Violet is here to help you work it all out whether that's in burlesque, comedy, or even in your day to day life.
In this interactive workshop we'll play improv games to help illustrate some key concepts of improvisation including EVERYTHING IS A GIFT, YES AND NO, WORKING IN SPACE, GIVE AND TAKE, and much more.
About Your Instructor:
Miss Violet DeVille is a transgender woman and a class act from a history that never was. The Timeless Trollop is a steampunk with a love of mixing performance with nudity! This Seattle based performer also produces regular shows in the area and will sometimes travel outside her lair to perform in exotic locales like Boise and Piscataway. When not performing and producing shows like Wheel of Tease: Improvised Burlesque to Live Music, The New'd Cabaret, and Worlds' End Burlesque Revue, she mentors other performers and helps them develop their craft even further. She dabbles in absinthe cocktails, creates daguerreotypes and other photographies, and spends far too much time in her workshop making mad science sexy again!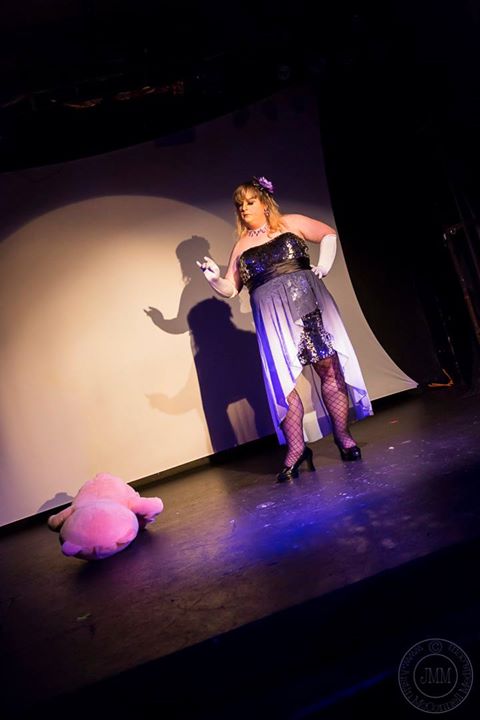 Photo courtesy of Justin McConnell of McConnell Media from Wheel of Tease, Improvised Burlesque to Live Music.
The calendar below is constantly being updated.