Michelle L'Amour Teaches at the School of Burlesque!
October 15, 630-9 pm
440 Lafayette St, Studio 4A
http://www.440studios.com/directions.html
Greenwich Village, New York City
Back by popular demand! A dancer's dancer and an erotic genius onstgae, Michelle L'Amour, Miss Exotic World 2005, has appeared multiple times on America's Got Talent, performs all over the world, and runs the fabulous Studio L'Amour in Chicago. She is recognized as one of Burlesque's premier dance masters, and is known for her brilliant choreography and innovative use of classic props as well as her devastating stage presence.
Michelle will be teaching a boa technique class and a floor work class.
October 15, 6.30-7.45 $25
Boa Love
Learn how to master the most iconic props in burlesque...the BOA. All burlesque performers should know their way around a boa. If you can work a boa, you can work an audience! L'amour will re-kindle your love for your boa by teaching you a boa routine. BYOB - Bring Your Own Boa - Wear workout clothes and heels.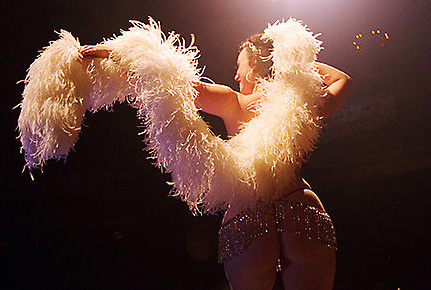 October 15, 8.00-9.20 $25
Get Down - On the floor that is.
Learn the finer points of floorwork with a FULL routine done on the floor with thigh highs, garter belts and heels. This routine is super steamy and sexy. Bring your own stockings and garterbelts for the choreography. Heels should be pumps or slingbacks that you can slip off without unfastening.
Registration is strictly limited to 14 students. Michelle's classes often sell out in days!
Click below to register.

Michelle says: "Contrary to popular beliefs, strip tease just isn't about tits and ass. While those elements are certainly the icing on the cake, you must first make the cake. I see too many performers standing on stage expecting applause because they took off a piece of clothing. In my opinion, you are not entitled to applause; you have to earn it, much like you earn respect. You have to make them ache to see what's under the dress. Make them feel like there's nothing else that matters in the world besides seeing your boobies. It's a show of femininity and sexuality. You're presenting the best you and the best parts of a woman. Do that in a way that's undeniably sexy and you won't be able to stop the applause."
Dress as you usually do for an exercise or dance class.