The World Famous *BOB* Presents!
June 27, 5-7 pm.
Presented at our annex:
The Studios at 440 Lafayette, Studio 4A. NYC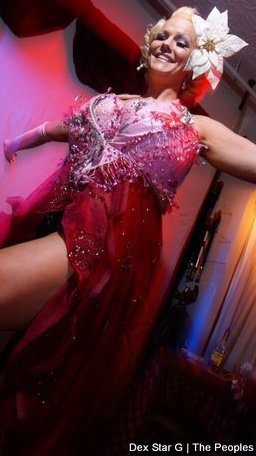 June 27, 2010, 5-7 pm
440 Lafayette, Studio 4A
*BOB* is offering her celebrated self-confidence workshop!
Ultimate Self Confidence is the radical and astonishing workshop that everyone is talking about! As seen in the Village Voice "Best of New York 2008" guide. World Famous *BOB* has created a workshop to encourage women (the class is currently women-only, though a co-ed version is planned to be offered in the future) to take larger steps towards who they ultimately want to be - whether it is on stage or in everyday life situations. Confidence is something that is only true when it is created by ourselves and *BOB* will guide you through a series of fun and sometimes challenging exercises to create "courage references" that are guaranteed to stay with you long after you've left class. Come ready to work and be prepared to amaze even yourself!
Nothing is hotter or more powerful than self-confidence. *BOB*'s intense and astonishing, boundary-shattering class is known for changing lives and opening minds. You will be exposed and your body fears will be challenged and you will prevail.

Promptness is crucial to this class - 10 minutes after it is scheduled to start no one will be allowed in.
Please note studio: 4A. We are running multiple classes that day so make sure you go to the correct studio at 440 Lafayette. You will go directly to the studio and will not check in at the office or with a receptionist. You can get directions from your location at hopstop.com.
Click below to register for $25. You will bring $5 in exact change to class.

See Map
Get directions from your location at hopstop.com.
When you arrive for the class go directly to the door of the studio.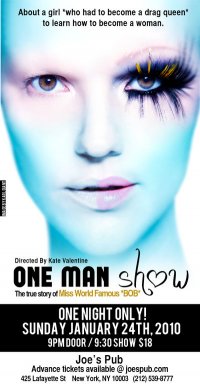 Past class--stay on our email list to be notified when it's offered again:
September 22, 7-9 pm, 440 Lafayette, Studio 3A
"Your Face For The World To See!"
exclusively presented by World Famous *BOB*!!
learn the beauty tricks of showgirls, burlesque stars, & drag queens all in one class! *BOB*'s brilliant ability to channel glamour girls such as Liz Renay, Jayne Mansfield, & Marilyn Monroe will be shared in this demonstration only two hour class. Learn how to apply lashes, lash customization, lip tricks- glitter application, liner, proper base & more!
Bring a notebook, pen, questions, & pictures of your favorite makeup style!
Learn how to use eyeliner, false eyelashes, and more!
Burlesque beauty and glamour is unique, and its secrets can enhance your style onstage and off.
If you look at pictures of pinups, burlesque queens, and drag divas and wonder how they get such unique and spectacular makeup looks, wonder no more! Get your face into this class and let a mistress of the beauty arts show you how to define your own fabulous style. You'll learn beauty basics and specialty showgirl makeup tips!
Click below to register for $25. You will bring $5 in exact change to class.
POSTPONED TILL OCTOBER, CHECK BACK OR JOIN OUR EMAIL LIST FOR DETAILS
Here's what students are saying about World Famous *BOB*:

"I just have to write a fan letter about a School of Burlesque class I took last night with World Famous BOB: I LOVED IT!! She was amazingly sweet and fun, and I loved hearing her tips about wigs and lashes. I would take another class with her in a heartbeat. As I told BOB last night, I took her workshop more to hear what she has to say about confidence; just by being in her presence, I learned SO MUCH. One of the other participants said we should all hang out with BOB every Monday night...I agree!"
--Charlotte

"Just HAD to mention, the class was AMAZING! Ive never felt better about being a young lady in my life, it was definitely one of the best evenings Ive had in a long time, and thats saying alot for a 22 yr old college student.. *BOB* is a great inspiration and so empowering, I hope she has more classes in the future for us insecure ladies.. that dont know how to take a damn compliment!"
--Tiny

I LOVED Bob's self-esteem class. It was a very emotional experience for me. I delved deeper than I'd expected. Bob really shares a lot of her personal experiences and vulnerability and it helped me see how similar we all are. I showed something in the class that I spend my entire life making sure I never reveal...my belly and that was a huge moment for me. Thanks for offering the class. It really set me further along on the right path to having the right attitude and self-awareness I need to be a better performer and a happier woman. And thanks to Bob for being so open with the class and sharing her journey to help us with ours.
--Dulce De Leche
Find out why *BOB* won the Golden Pastie New York Burlesque Festival Award for "Most Inspiring Performer"! (Sharing the title with another New York favorite, Little Brooklyn.)
Nothing feels better or looks hotter than pure self-confidence. World Famous *BOB* will teach you how to refuse to let your imperfections define you, and how to give yourself permission to feel beautiful and valuable all the time, onstage or off.

Refreshments will be served!

About *BOB*:
The World Famous *BOB* began her career as a go-go dancer in a cage in a nightclub in a small town in California at the tender age of 19. The first night she EVER stepped up on stage a group of obnoxious college boys screamed over the music "Hey look at the fat girl in her underwear!" She made her life decision to make right then and there, and now 16 years later she'd like to share with you the tools of how to make powerful decisions ON THE SPOT about not only who you REALLY ARE as a performer but also as a woman.

A burlesque star who's travelled all over the world for 11 years including to Vienna, Paris, Canada, Amsterdam, and numerous US Cities, she is most proud of her locally produced show in Brooklyn entitled The World Famous *BOB* Presents... a monthly showcase for new burlesque & boylesque stars! A self described F to F (female to female) *BOB* started in gay clubs & bars and if you want to know glamour basics there are no better teachers than Drag Queens! True inner self confidence is something we can learn from each other on, off, & backstage everyday. See you in class!

The World Famous *BOB* ...."One person at a time....."



Watch BOB's famous "Martini Time" number



Directions

More School of Burlesque Classes

Want to be notified of upcoming classes and events? Follow the link below to receive notifications of new listings a day before they are made available to all--a great help to get you into those classes that sell out in a matter of days!